Kayak Paddle with Colin and Federico 11-5.45. Return trip from Chiswick Pier to Chelsea Bridge.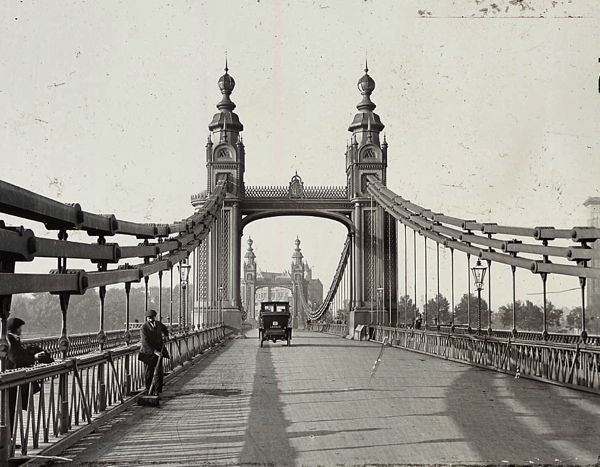 The majestic Hammersmith Bridge when it worked!!
Like all of us I was tired of waiting for Hammersmith & Fulham council to sort out their tug of war with the government, trying to hold them to ransom and foot the hefty bill of between £141 million (if repairs would be done in 3 years) or £163million (for a quick 12 month repair) of this magnificent 133-year-old iron beast. This is somewhat insane considering it only cost some £80,000 (equivalent to £7.1 million today) to build. What are they going to repair it with ? Titanium or real gold! On the guise of danger of collapse they closed the bridge in April 2019. As too many paddlers, cyclist and pedestrians were still enjoying crossing over and under the bridge, they then closed it completely to all in August 2020. So river traffic has now got a Berlin style East-West divide. Frustrated and feeling our club needed to overcome this hurdle we launched an expedition across the barrier. With young hardy Colin and effervescent Federico we paddled in smallish boats, as we knew we had to portage. I called the PLA beforehand to save any unknown surprises and they gave us the green light.
There is talk that the Government Taskforce is committing to a ferry service by "early 2021". Though discussions seem to be at a standstill, the government is conducting their own surveys and there is even talk of a toll when it opens in 2050! (only joking but it could easily be 2024!)
I still remember what an appalling paint job they did previously, it looked great took two years to do during which time it was closed, cost millions and did not even last two years before the top half discoloured. It felt disrespectful to the visionaries who built it.
The magical Grade II listed building was the first suspension bridge over the River Thames designed by William Tierney Clark.
It is hard to believe that this innocent and serene and majestic green and gold bridge has been three times the target of violence. The three bombings were instigated by the Irish Republican Army (IRA), who seem to be obsessed with destroying the bridge. The aim would be to cause severe congestion to London, as Hammersmith has several major arterial routes going through it. The first bomb in 1939 was discovered by a passing hairdresser who picked up the smoking and sparking suitcase, and threw it in the river where it exploded. A second explosive detonated simultaneously causing minor damage. Undeterred the IRA made another attempt in 1996, this involved the largest Semtex bombs ever found in the UK at the time both explosives fortunately failed to go off. Finally in 2000 a splinter group calling itself the "Real IRA" had another go this time it caused some minor damage.
It was ironic that the IRA after so many attempts at carnage had failed to subdue the spirit of this iron creature, in spite of the Irish cultural centre being located nearby. The local Irish must equally not be amused at all the disruptions caused by their fellow countrymen.
It survived three attempts by the IRA to blow it up only to be defeated by local councils and lack of maintenance.
We went with the outgoing tide downstream we also had the wind behind us. Before Hammersmith bridge we got out at the last pontoon and portaged our boats quite a large detour, The lower underpass was also closed so we had to do a large circle to the road and down again dodging alarmed mothers pushing their prams. We had for this purpose the venture kayaks which are lighter to carry than the sea kayaks. We felt the ghosts of the 22,000 motor vehicles and 16,000 pedestrians and cyclists who could no longer cross it each day, but only stare at their neighbours across the divide.
At the ramp outside riverside studios, the river had withdrawn quite far and left us with a deep mud to cross through…Colin felt the slipperiness caused by the mud in his sandals.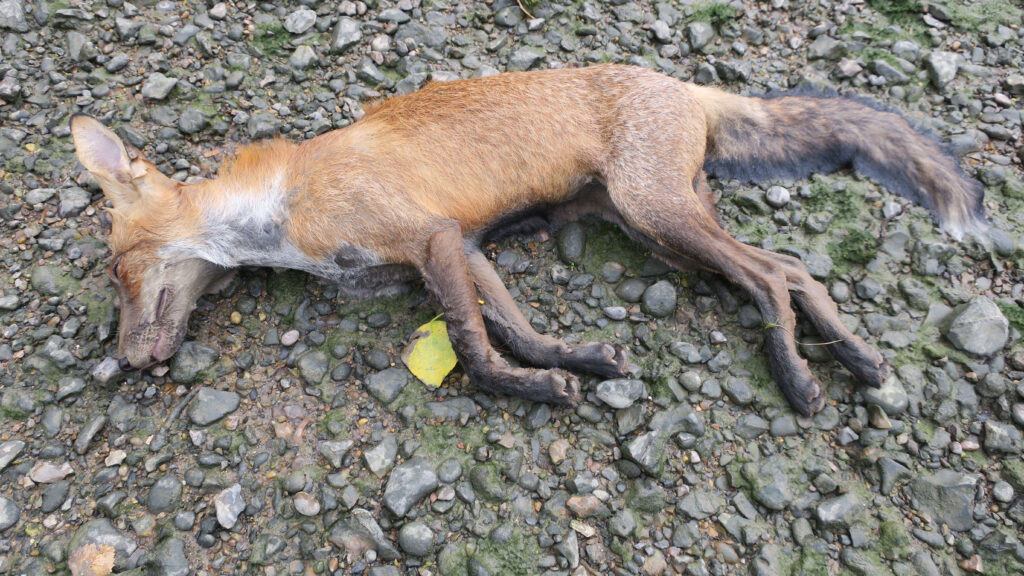 There was the sad sight of a dead fox, its death was unclear maybe it got stuck in the deep mud though its feet seemed untainted by the mud. They are generally nocturnal creatures but can swim. I thought for a minute it might have been run over and thrown in the river. But as there is no traffic that seemed far-fetched. After paying our respects, we launched on the much neglected East side of the Thames. My two fellow paddlers seemed divided on whether to continue past Putney. The scullers were out in force in both directions so we had our narrow window between them.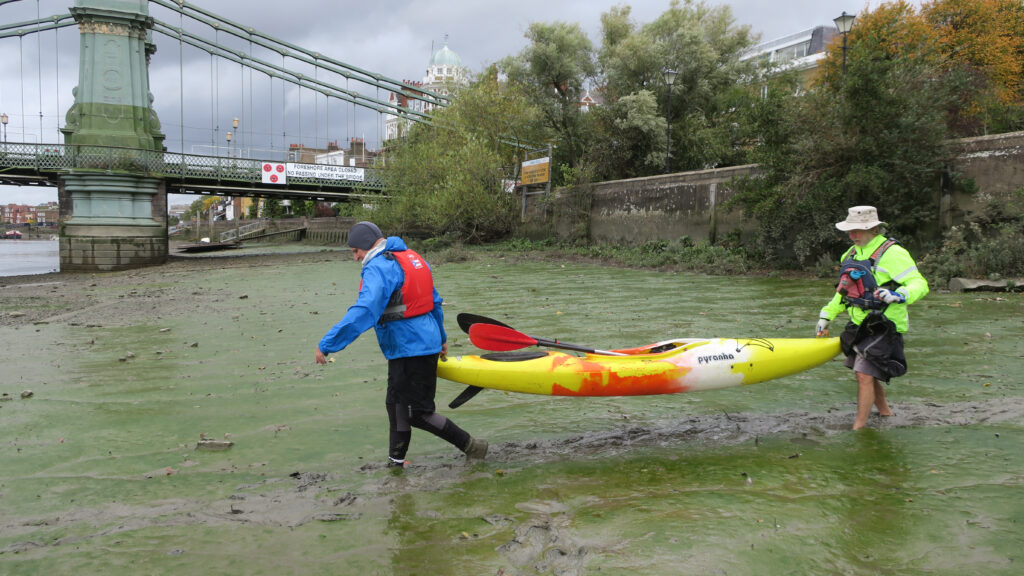 Once we reached Putney we kept going, bridge after bridge as the discussion kept being to push on, to Chelsea Bridge where we turned and paddled against the tide to get back to Putney, to have a late lunch at the Rocket pub. The food was not great maybe it is my imagination but Covid gives everyone an excuse for poor quality half of my mixed grill was missing including the elusive Gamon which Colin seemed to have, he generously gave me a nibble. Federico the master chef (according to his wife) sneered at us and his food…I know he could do better but so could we all. Fuel was the point as it was a late lunch around 2.45 and we were all famished as the paddle against the tide and wind proved to be challenging. Colin reminded us he was not 20 anymore and a prestigious 70 and feels it when going against the tide.
On our return the ineffectual PLA boatman (there is one on each side of the bridge) warned us it was closed. I reassured him we were looking forward to a lovely portage to our welcoming mud and had no intention of slipping under the bridge which would have taken us all of 30 sec instead of about 10-15 min.
We got back just as darkness was descending.