Another Sunday where although fewer club members than the previous week, despite the sun shining and the water level being low. We thus did have sufficient coach cover to take all those that pre booked out on to the river as it was a very low tide which made for an easy paddle towards Kew.
Before I write about what we got up to its a welcome back to Coach Elaine who has been self isolating for the last couple of week which allowed her to be safe to access a beautiful bouncing baby girl.
So a simple launch into an ever slowing and a very low tide was how the session started. Complication was one of our club members has in the passed struggled to get into a kayak. No problem today and with instructions of 'if you do fall in swim to the side of the river'. Coach David launched her into the river stream. Of course Coach Steve was on the water along with MJ making sure a safe transition from land to water ensued. Although it slowed the whole club down by going through this launch process, it made it a safe release with plenty of coaches on hand incase of a swim.
With that over once again I can only tell you of my group of three (Coach Steve, MJ and Charmian) our little group headed along the middlesex bank towards Barnes Railway Bridge.
Very quickly the club group overtook us and disappeared into the distance. They were led by Coaches David C, Elaine and Leon. Add in some strong paddlers like Liz D and Julius which made for a safe group more than able to handle the very benign conditions of the river this week.
My group pottered along making observation of the various birds and plants as we passed by. We did stop every now and then to keep the group together. With the river so quiet there wasn't too much need to keep the group under a tight leash. I did have to use my whistle a couple of times to redirect one of my group who had moved out from the river bank, but apart from that it was paddle and chat.
Met some very nice rowers on route one even asked if there was anything in front of him as he had a stiff neck and couldn't rotate his head. I think everyone was in a good mood as the weather and water couldn't have been better.
As my party came to the ship, albeit on the opposite bank it was decided they could go no further, so we ferry glided across the empty river to Surrey side. Before we landed a text was sent by MJ to book a table for us in the garden! Who knew you had to book to get into a pub! It worked as on arrival we had a garden table where drinks were served. Charmian sat drying herself having got a little damp on the way out. We all drank a little something, we were all in need of hydration….you understand.
Walking back to the boats, Charmian discovered choice of footwear is important. I little slip whilst walking through the mud back to the boat was saved by the use of her paddle which she was advised to carry.
With that, a simple launch of MJ and a tiny push of Charmian put everyone on the water. Our biggest issue was finding some water deep enough to float. Job done we headed back meeting up with various inflatable craft including Martin and Sabrina (sorry if I have the name wrong) out in sea kayaks for a trip on the might River Thames.
As we paddled back we spotted Elaine heading out we assumed after having made sure everyone was safe and ashore. Elaine had come back to run safety for us.
The question in everyone's minds was could Charmian get out of her boat? No one said it, but it was on everyone's mind. No problem as we in fact had Elaine, Liz and Julius ready on the water just incase and with Coach Steve along with MJ landed in their canoes. It was put up or shut up time.
Charmian came along side the pontoon and performed a roll out style exit. It required a small intervention by Coach Steve to assist with the roll out, but it worked and using MJ's boat as a standing aid without help Chamian was upright on the dock.
With that task completed, it was put the canoes away which MJ and Julius did, whilst Elaine hoisted a sea kayak up onto the pontoon which was again duly put away.
Liz apparently had been trying out one of the pyranha day cruisers as an alternative to the now rather old perception dancer. Which from her happy disposition looked like it was a winner.
With all kit put away it was just Julius who was working on a solution to repairing a skeg on a sea kayak.
I hope everyone got something out of the paddle. I discovered that David C
, Leon and Elaine's group made it as far as the Black Bull at Kew, far enough on a hot July day.
That's all for this week. Lets see what next week brings.
Best wishes,
Steve
Pictures beneath are a combination of Elaine and David C's.
Many thanks guys brightens up the newsletter no end.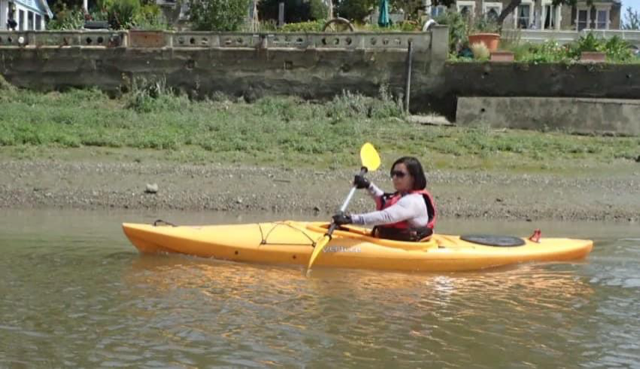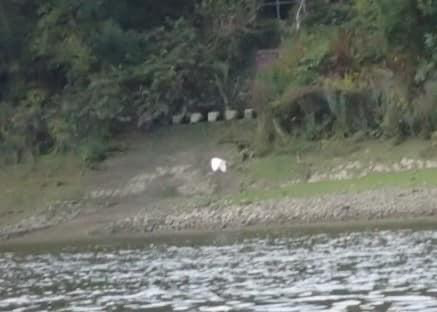 There are various other coach related trips going on whilst the river is quite. These are completed at the discretion of that specific coach.
That's all for this week's newsletter. Next week we may have more news about what is possible and what isn't!
As I said at the beginning, we are still trialing members only paddle. We are experimenting how we can make it work for our club members. Even as a club member you still need to contact Sarah Deeks to establish your place, otherwise you won't be allowed out.
Stay safe and keep well
Best wishes
Steve