Greenwich paddle to see Cutty Sark.
The pontoon had been hijacked by a family of swans with their four new babies, (cygnets) did anyone know that a male swan is a cob and a female a pen! In fact they seemed to be treating us like squatters and almost seemed to be ignoring us, unperturbed by our two sea kayaks being made ready to launch.
We headed off with the tide around 9.20am for a nice 8 hr paddle of some 27-28 miles. It was a nice cloudy day with intermittent sun with a mild temperature of 18oc and cooling North-easterly breeze.
We made good time without little stops or distractions, we zoomed past the Houses of Parliament, HMS Belfast, the Tower of London.
I get the feeling Covid has made our members want longer paddles which is fully understandable, and I am trying to offer this, though this does mean that the paddlers are keen to go between 6-8hrs. Ironically for longer paddles it needs a more disciplined and small group up to 4 (specially going into central London) with a fair bit of stamina. As it gets choppy past Westminster and actually quite dangerous at times, as lots of clipper boats and usually massive barges which accompany the tide in each direction with both material for super sewer and other. These all cross the river and as a vulnerable paddler you have to really read what they are planning, not always easy without indicator lights.
 Commercial vessels may use sound signals so listen out for them.  If you hear them you probably need to know the intentions of the vessel making them:
= 1 blast = 1 long blast
I am altering my course to STARBOARD
I am altering my course to PORT
I am going ASTERN
I am turning fully round to STARBOARD
I am turning fully round to PORT
I do not understand your intentions – keep clear – I doubt whether you are taking sufficient action to avoid a collision

I am about to get underway, enter the fairway or I am approaching a blind bend

I am unable to manoeuvre – not under command


I intend to overtake you on YOUR STARBOARD side


I intend to overtake you on YOUR PORT side


I agree to be overtaken
Sadly most boats rarely use their horns to signal their intentions unless they feel a collision may be imminent. Coaches need to follow a lot of common sense as the clippers zig-zag from one side to the other of the river, as stops are on both sides and they often can reverse. So position on the river is usually to starboard. But sometime it is far right and even middle of fairway to give space to the clippers, which are more dangerous than scullers. So if the tide is high enough I often make the decision to paddle behind the pontoons and avoid the dangers altogether.
On past the lovely 30 St Mary Axe building also known as the Gherkin which stands at 180 m on the former site of the Baltic Exchange which was badly damaged during the 1992 IRA bombing. The stunning landmark was built by the great architect Norman Foster and Arup Group. Sadly the Gherkin is disappearing overshadowed and dwarfed by quite ugly buildings such as Richard Roger's unattractive Cheesegrater or the Leadenhall Building, 225 m. I am really glad that I extensively photographed it from every angle when it stood like a magical pinnacle on London's landscape instead of bullied into submission.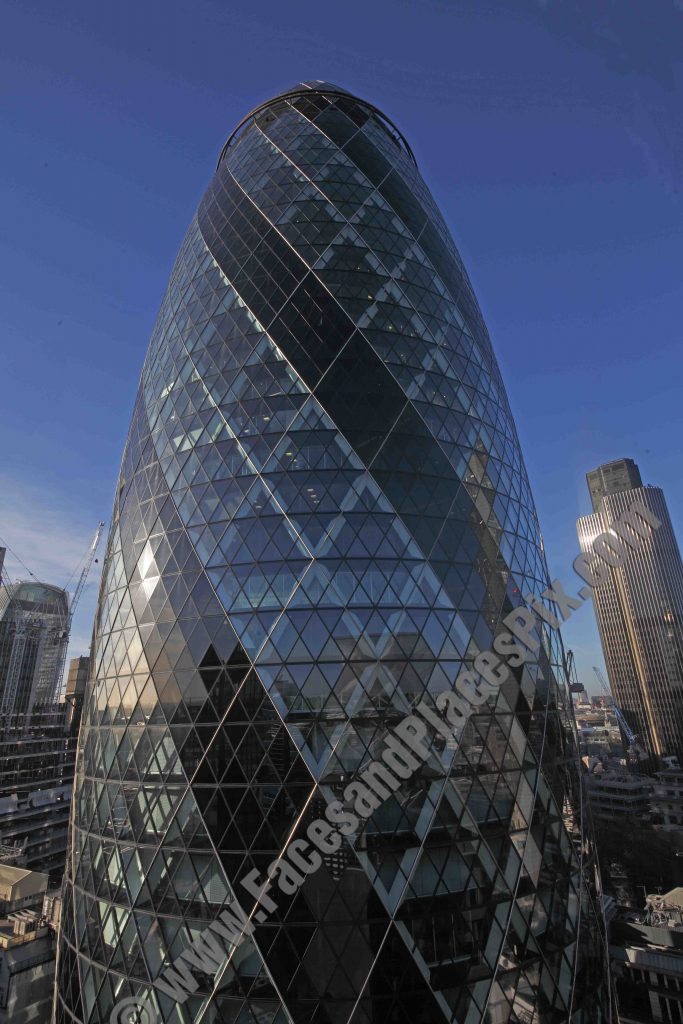 Here are a couple of proper pictures of the gherkin no longer seen.. hidden as it is.
As we reached Tower Bridge we made our compulsory snaps. We then paddled on a few miles past Canary Wharf and its clipper boat riverside stop, the Canary name dates back to the 1930s, when a warehouse and quay from this area was the centre of London's fruit trade with the Canary Islands.
We paddled past 1 Canada Square building with its pyramid-topped skyscraper. This used to be a new landmark and Britain's tallest building for 20 yrs, between 1991 and 2010 at 770 feet (235 m) before it also fell victim to being overwhelmed by other taller and not necessarily prettier buildings.
Finally after a fairly long paddle, the mast of the historical ship, the Cutty Sark loomed into view. Some titbits, about one of our most famous ships. Cutty Sark's length is 212 feet 5 inches (64.74 m), with a draft of 21 feet (6.40 m) and a deadweight of 921 tons.
Cutty-sark was the nickname of the witch Nannie Dee, the witch in Robert Burns's Tam o' Shanter 1791 poem.  It is named after the shirt she wore a cutty which was too short (sark). An extract from the poem:
Weel done, Cutty-sark!
And in an instant all was dark:
Now, wha this tale o' truth shall read,
Ilk man and mother's son, take heed:
Whene'er to Drink you are inclin'd,
Or Cutty-sarks rin in your mind,
Think ye may buy the joys o'er dear;
Remember Tam o' Shanter's mare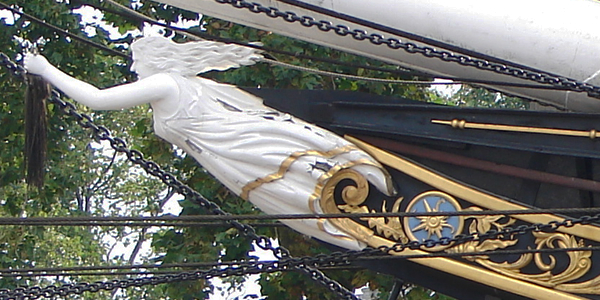 The ship's masthead has an erotic figure of the bare-breasted witch Nannie Dee with long black hair holding a grey horse's tail in her hand which she has snatched from Tam o' Shanter.
Cutty Sark is a British clipper ship built in 1869. She was one of the last tea clippers to be built and one of the fastest of her day. Sailing ships were under siege from steamships, which had just been launched. The Suez Canal's opening and competition from steamships meant that its cargo shifted from tea from China to Australian wool. After many decades she was retired and used as a training ship for cadets before going into permanent dry dock in 1954, she was later turned into a museum. Fears of damage from corrosion and the hull becoming distorted resulted in renovations. Sadly these in turn proved to be more damaging, as a fire broke out in 2007, which destroyed most of the original wooden structure. After a lengthy investigation, arson was dismissed and the cause was found to be due to an industrial vacuum cleaner which had accidentally been left switched on and assumedly overheated and sparked the devastating fire. (Those bloody dozy cleaners!) The ship survives 137 years through tempests, wars, only to be damaged by a modern appliance.
We had a sumptuous lunch of sandwiches and apricots and a compulsory coffee (Costa no less). We made the mistake of sharing with a solitary pigeon who in a blink had multiplied into a swarm of the blighters. You would think we would be hardened to the ravages these pests cause our boats by nesting in them, but we won't learn with our soft hearts. We had a brief walk and scout for long lost treasures, which amounted to lots of clay pipe bits. Clearly a popular spot historically for smokers.
Our return journey involved dodging a few mammoth barges which were transporting pieces of the supersewer and various annoying clippers which zig-zaged across our path.
It should be noted that I had understood the boats face no speed limit around Greenwich, and additionally we had a bunch of police boats and what appeared to SBS (naval version of SAS) all dressed ominously in black with super fast black speedboats zooming past (way beyond any speed limit) blasting sirens pretending to be dealing with terrorists. Clearly word had got out that we were a national threat. To Kiki's unstoppable laughter I got hit sideways with a tsunami wave, which literally transported me and beached me on the sandy riverside. I had with no small difficulty avoided capsizing. I was just puzzled as to how she missed being hit.
On the return journey, the ever-observant Kiki noticed with her eagle eye a series of crosses that had been affixed to old wooden mooring posts. These were all very original and using a mix of recycled metals including Kiki's favourite of a royal crest it obviously resonated with her regal stature (in her mind possibly?).
We got back to the pontoon with what we thought was a welcoming committee of Safi and Jules, but they were only interested in Kiki's Scorpio kayak.